Return to main CellarTracker site...Front Page | Recent Changes | Title Index | Help
---
Concerning the Goldkapsel (gold capsule) wines of Joh. Jos. Prüm:

See this image to show the difference between a Goldkapsel and a Lange Goldkapsel: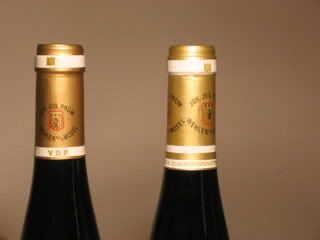 (click thumbnail to see a much larger photo...)

Basically, the gold capsule wines have one ring at the bottom of the capsule and the long gold capsule wines have two rings.

Some of these wines are commercial wines and some are special lots of auction wines that are sold only at producer auctions, in this case run by the Verband Deutscher Prädikatsweingüter (VDP) every September in Trier, Land der Rheinland-Pfalz, Germany. These wines can be identified by a round sticker approximately 1 cm in diameter stating that the wine is an auction wine 'Versteigerungswein' and the date of the auction. Most wines are auctioned the year after their harvest but in very special cases they might be auctioned two, three, four, or many years later.

There may be, therefore, two different Goldcap wines: the commercial Goldcap and the Auction Goldcap. There may be two different Long Goldkap wines, the commercial Long Goldkap and the Auction Long Gold Cap. In most cases these are not the same wines. Usually each Auction wine is chosen to show special stylistic properties (not necessarily higher quality) and is made in much lower quantities than the commercial wine.

These wines are auctioned via a broker system. If you are interested in attending one of the three or four auctions, you must get in touch with the Associations holding them: the VDP (holding auctions in the MOSEL at Trier, and for the Ahr, Nahe, and Rheinhessen at Bad Kreuznach; and the Bernkasteler Ring, holding auctions of other Mosel wines. Lately there has been another less formal auction in the Mosel called the Klitzenkeiner Ring. You will be seated with your broker at the auction table.