Return to the main Barcode Support instructions:
There are several options around the Dymo barcodes on CellarTracker (and for the CSV generated for other uses):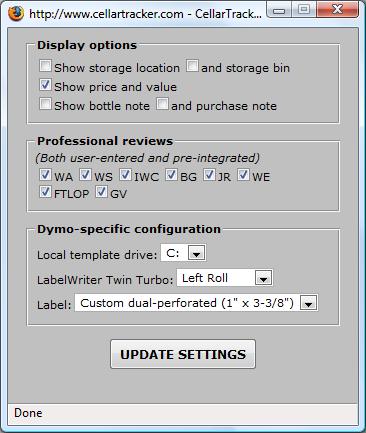 DISPLAY OPTIONS
You have the choice of showing Location and Bin (off by default)
Price/value can be toggled (on by default)
The per-bottle notes and purchase notes can be displayed. Since these can each be 255 characters they are truncated to 50 characters to avoid perturbing the label too heavily (off by default)
PROFESSIONAL REVIEWS
CellarTracker allows users to enter professional reviews, and it also includes several pre-integrated channels. You can toggle any of the following publications: WA (Wine Advocate), WS (Wine Spectator), IWC (Stephen Tanzer's International Wine Cellar), BG (Allen Meadows' BurgHound, JR (Jancis Robinson), WE (Wine Enthusiast), FTLOP (Roy Hersh's For The Love of Port), GV (Gary Vaynerchuk's Wine-Library TV)
CONFIGURATION OPTIONS (Dymo specific)
If you choose to install and modify label templates, you have the option to change the source directory. CellarTracker will look in C:\Program Files\CellarTracker\ by default, but you can install these on any drive and configure CellarTracker to look there. Please note that by default CellarTracker now loads templates over the web, so local install is not even necessary any more.
Users of the Dymo Twin Turbo printer can now control whether labels use the left or right spool. The auto-switch setting tells the Dymo printer to switch spools if/when it runs out of labels.
The last option lets you pick your Label Types.
In the label printing view look to the upper left for a Change label settings link.
Please also see the automated troubleshooter if you are still having issues.