Return to the main Barcode Support instructions:
VERY IMPORTANT!!! If you have not already done so install the XPCOM extension and restart FireFox as requested. With the latest versions of this control it should fix all FireFox issues with none of the mucking about described below required.
In the past, Dymo has shipped several versions of the Dymo XPCOM control to allow integration from FireFox for Windows. Alas, there have been some issues with these. The first version was unsigned and required that the user tweak a special security setting in FireFox. It did seem to work pretty well in FireFox 2.0, but no one seemed to be able to install it under FireFox 3.0. (People upgrading from 2.0 to 3.0 could seem to keep the installation working.) More recently Dymo shipped a signed driver that installs properly under FireFox 3.0, and they recommend a different coding syntax that no longer requires a special tweak to the FireFox settings. On some machines this seems to work FLAWLESSLY, hurrah! Alas, on at least one machine which I have scrubbed and scrubbed, the 3.0 control works but ONLY with the older syntax that requires the security tweak. Sound complicated? Does your head hurt yet? Mine does...
The good news is that my code tries first the newer, tweak-free syntax. If that fails it falls back to the old syntax. By doing that I am 100% successful on getting this to work on several machines running versions of FireFox and the XPCOM control. Here however are the troubleshooting procedures:
Again, if you have not already done so install the latest XPCOM extension and restart FireFox as requested.
If you are upgrading from the older extension you can optionally try the steps below to clean up your control registration:
Uninstall the DYMO SDK extension from FireFox 3.0 and then restart FireFox.
Delete the COMPREG.DAT and XPTI.DAT files in the FireFox profile folder (see image below).
Performing the above two steps ensures the extension is uninstalled properly.
Start FireFox and verify the DYMO SDK extension is indeed uninstalled.
Re-install the SDK extension by clicking here.
After one more FireFox restart you should be ready to go.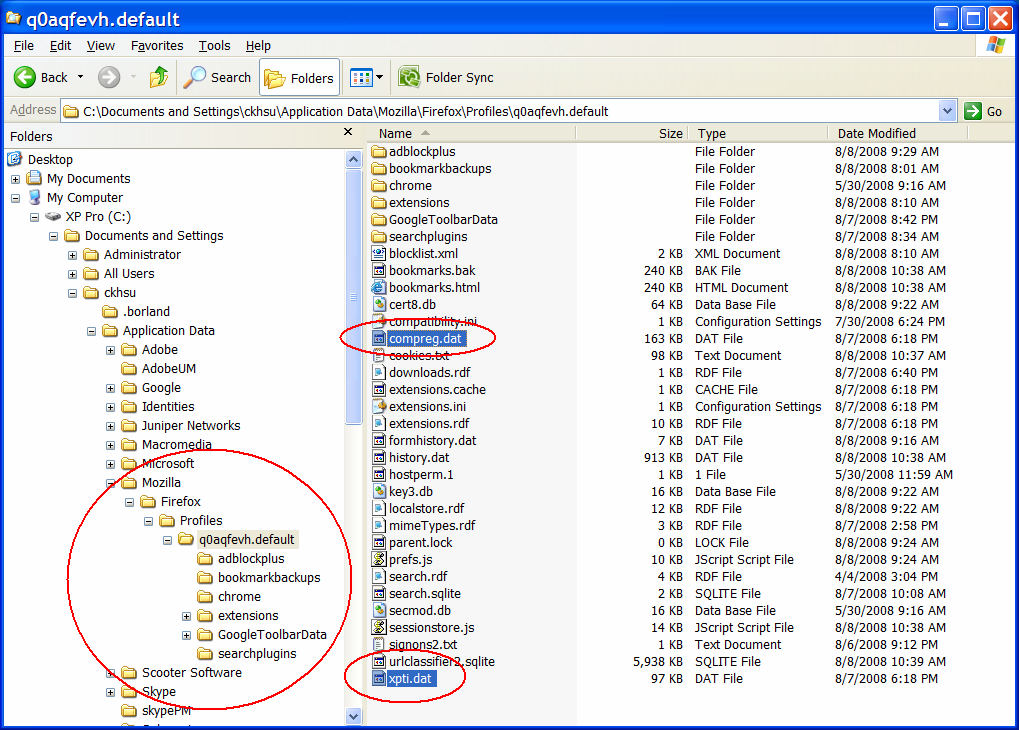 If the XPCOM extension is not installed you may see errors such as this when running the automated troubleshooter:

[Exception... "ComponentManager::CreateInstance returned failure code:" nsresult: "0x80570015 (NS_ERROR_XPC_CI_RETURNED_FAILURE)" location: "JS frame :: http://www.cellartracker.com/dymo.asp :: PrintLabel :: line 115" data: no]

OR

Components.classes[DymoAddInCID] has no properties.

Once installed, attempts to use the FireFox automation may still fail silently or yield an error:
A script from "http://www.cellartracker.com/" was denied UniversalXPConnect privileges.
STEPS
Open a new tab in FireFox and type about:config in the address control.
Type signed in the filter control to filter signed.applets.codebase_principal_support from the many options.
Assuming it is using its default value of false, double-click it to toggle to true as shown below.

Restart FireFox.
The first time you try to print barcodes you will see a prompt as below.

Check [x] Remember this decision and click Allow, otherwise you will have to click Allow every time you print a label.
Please also note that you will be prompted every time in your first session, so just restart FireFox to stop getting the script prompt.
Please also see the automated troubleshooter if you are still having issues.