This article briefly describes some of the key concepts and user interface elements that are essential to making a happy and productive switch to the new site, so it is really worth a few minutes to read this or print it out.
Navigation Model
One of the challenges in CellarTracker is making it easy to browse your own cellar or the entire database of millions of wines and tasting notes. In the classic site, there was an essential checkbox to "only show mine" to let you distinguish. In the new site, we have more clearly separated these for better clarity. In the top navigation bar, generally the "global" links (Wines, People, Articles) are at the upper left while the "personal" links (My Wish List, My Tasting Notes, My Cellar) are at the upper right. If you don't see links at the upper right, then that means you are either not registered or not logged in. Global searches are typically targeted at "Wines" and personal searches are typically targeted at "My Cellar."
Dynamic User Interface
The new CellarTracker site is much more dynamic than the old site, and there are many tools you can use to access more data or to customize the experience. In this example, you can see a few that are used to (a) Expand or Collapse a section; (b) switch tabs to reveal more data; or (c) Next/Previous icons to let you navigate through much more data directly in place without leaving the page. Most such settings are "sticky" so that the site remembers how you last left a control, so to best customize the site it is essential to click and experiment. In general, if you see a small arrow that indicates a menu, expand/collapse, or navigational element.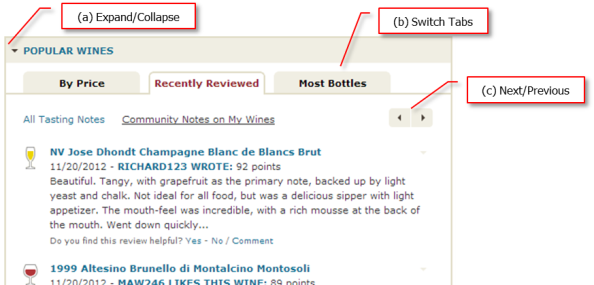 Quick Links and Saved Searches
Also at the upper right of the screen are two crucial tools. The QUICK LINKS menu lets you easily get to the core cellar management tasks from any screen on the site. There is also menu for MY SAVED SEARCHES which you can use to save and access any view on the site. These searches are all saved on the website and thus are accessible to you from any web browser on any machine you use to access the site.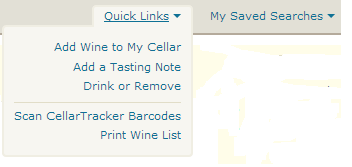 My Cellar and the Menu
When you are in the MY CELLAR view, one of the crucial user-interface elements is a large menu at the upper left that says IN MY CELLAR. Clicking on it lets you navigate to the following views: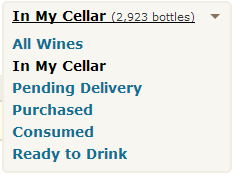 All Wines: Every wine you have ever attached data to. This is comparable to toggling the "In stock" checkbox in the old site.
In My Cellar: The default and complete view of your cellar that shows both wines in stock and those pending delivery.
Pending Delivery: This is a report of your purchases that are still pending delivery.
Purchased: This is a report of your entire purchase history.
Consumed: This is a report of your consumed bottles.
Ready to Drink: Formerly referred to as the "Drinkability" report, this helps you to manage the drinking windows for all of your wines and to determine wines that need to be consumed sooner.
Summarize By
As in the old site, you can use the Summarize By dropdown to quickly group/summarize any search. These pivoted reports themselves offer easy drilldowns, so this is one of more powerful ways to iterate and build an advanced search just by navigating your information.
Narrow Results and Advanced Search
Now at the top of every search view is an expandable menu to help you Narrow Results. The top options are exposed and easily changed in place, or you can click More to go to the exhaustive Advanced Search screen to further refine the search. This is an extremely powerful aspect of the site, and any search you build can then be saved.

Side Panel
Perhaps the largest change in the site involves the introduction of the "side panel" in cellar/search views as well as on the wine detail pages. The basic idea of the side panel is to summarize all of your holdings and the key actions you might take for a given wine. In the old site, to accomplish any action, you needed to go to the page for the wine. In the new site, the idea is to prevent that for really common actions by presenting a mini version of the wine detail page in a dynamic side-panel right next to your list.  To reinforce this behavior, there are no hyperlinks in each row in your cellar. Rather, you click on a row to select it (which highlights it, keeps it onscreen as you scroll and updates the side-panel), or you can even select a wine just by using the arrow keys to move up and down. You can perform actions from the side panel, and when you are done you are taken back to your list with the same wine selected. It is a powerful albeit very different way of using the site than many people are used to. With that in mind, there is in fact a prominent button to HIDE SIDE PANEL for people who are more comfortable navigating the old way.
Breadcrumb Trail
If you do choose to tunnel down to the wine detail page or sub-pages, the site does now present a "breadcrumb" trail to show how you navigated there. This is especially nice if you started with a custom search, as you are now just 1 click away from your original search (with the same wine selected).

For example, if I searched my cellar for "betz syrah" and then drilled down to the page for the 2005 Betz Family Syrah Chapitre 3, the breadcrumb would clearly show this. I could get back to my original search either by using the BACK button in my browser or by clicking on the breadcrumb trail.
Hovercards
One particularly rich, dynamic feature is the "hovercard" that we have introduced for wines and people in the site. Generally speaking, when you hover over a wine glass icon or a user's thumbnail (or in some views the wine name, the wine vintage, or a user's handle) a dynamic popup appears with key actions and a snapshot summary of key information.
So just hovering your mouse over a wine brings up this wine "hovercard."
And hovering your mouse over a person brings up this person "hovercard."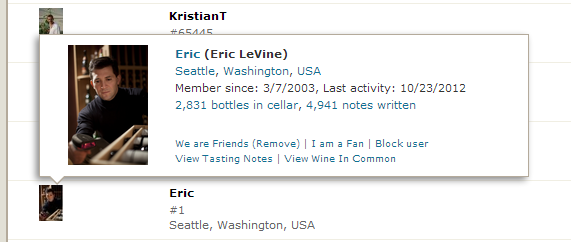 Shopping Cart
Perhaps the most powerful feature in the new site is the "shopping cart" feature. In the legacy site, you could only search for and add one wine at a time. In the new site, the wine addition screen now acts as a shopping cart. You can search (step 1), select one or more wines (step 2), search again, select more wines, and then so on. When you have your shopping cart populated, you can then click the button to CONTINUE TO STEP 3. At this point you can enter prices, quantities and storage locations for all wines on one screen. Or if you prefer, you can toggle to an individual wine view that takes you through each wine in succession. If using that latter option, key parameters (store, purchase date, delivery date) are remembered and passed from screen to screen. So whether you are coming back from the wine shop with a mixed case of goodies or responding to a newsletter from one of your favorite wineries, you can now enter the information into CellarTracker in a much more efficient fashion. Comparable feature also exists to easily let you select and consume many bottles from your cellar at once as well as to add many tasting notes at once.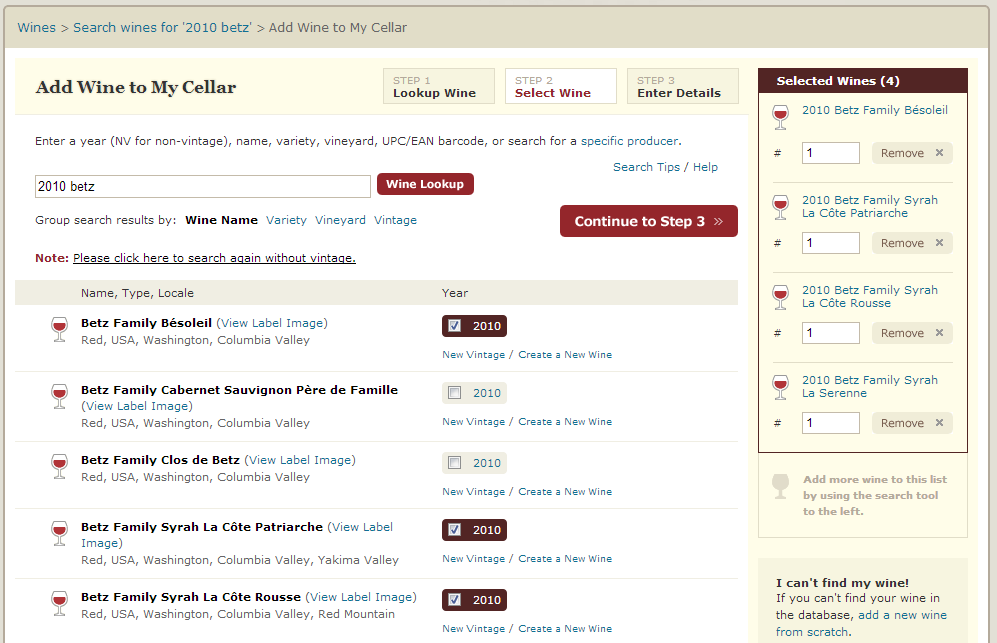 Classic-Mode
For those users who really are not willing to learn the new site, we are retaining the old site at www.cellartracker.com/classic for the foreseeable future. At the bottom of every page in the new site is a CLASSIC-MODE link to take you back to the old site. At the top of every page in the old site is a link to go to the new site. Please be advised someday we will likely need to retire the old site, as it is very challenging and expensive to maintain two separate websites. It really would behoove you to use the new site and provide feedback so that we can tune it for your needs.
In Closing
The list of features above is far from exhaustive. There are dozens of other new and rich features in the new site including integrating facilities for printing, exporting and sharing information. A social layer to let you manage friends and fans. Rich privacy controls. Integration of professional reviews from dozens of sources. A new model for selecting many wines and performing bulk actions etc.