Hidden Gems
There are a number of particularly cool feature of CellarTracker! that don't leap right out from the site, yet many users REALLY appreciate these when they find out about them and start to use them. The point of this post is to document these beauties so that more people find them and sooner. So here we go with a list of the hidden gems on CellarTracker! Let's start with a couple of items of high-value and low degree-of-difficulty before we move to the fancy stuff...
Bulk Import
It is possible to get started quickly by importing an existing spreadsheet or database. Read about the bulk import tool.
Quick Search
What's the fastest way to move around the site? Simple! Type some stuff in that cool Search box at the upper right of your screen. Type whatever you want in fact. A vintage, a locale, a vineyard. Put spaces in there even. That sucker comes right back lickity split with a list of matching wines. Of course, why just search your cellar. Search using the "Wines" scope to search the entire database of 1.4 million wines. Better yet, do you want to see tasting notes? Then change the scope dropdown to read "Tasting Notes". If your cellar is on more than a few screens, this is really the only way to go. It's very fast, very easy, and very liberating!
Hovercards
One of the goals of the new site is to put much more information at your fingertips without requiring you to navigate. So just hovering your mouse over a wine brings up this wine "hovercard" with key details and actions.
And hovering your mouse over a person brings up this person "hovercard."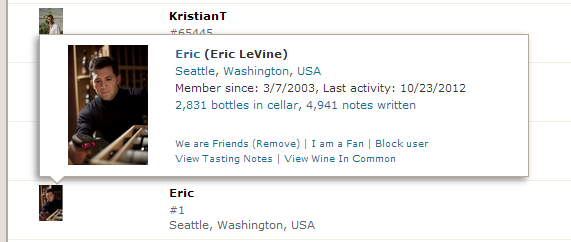 Tracking Futures
Have you ever bought wine over the Internet? Placed an order for wine that you won't receive for a little while? This one is GREAT. Either find or create your wine, and then add bottles. The key trick is mark the bottles as PENDING as in the screen below: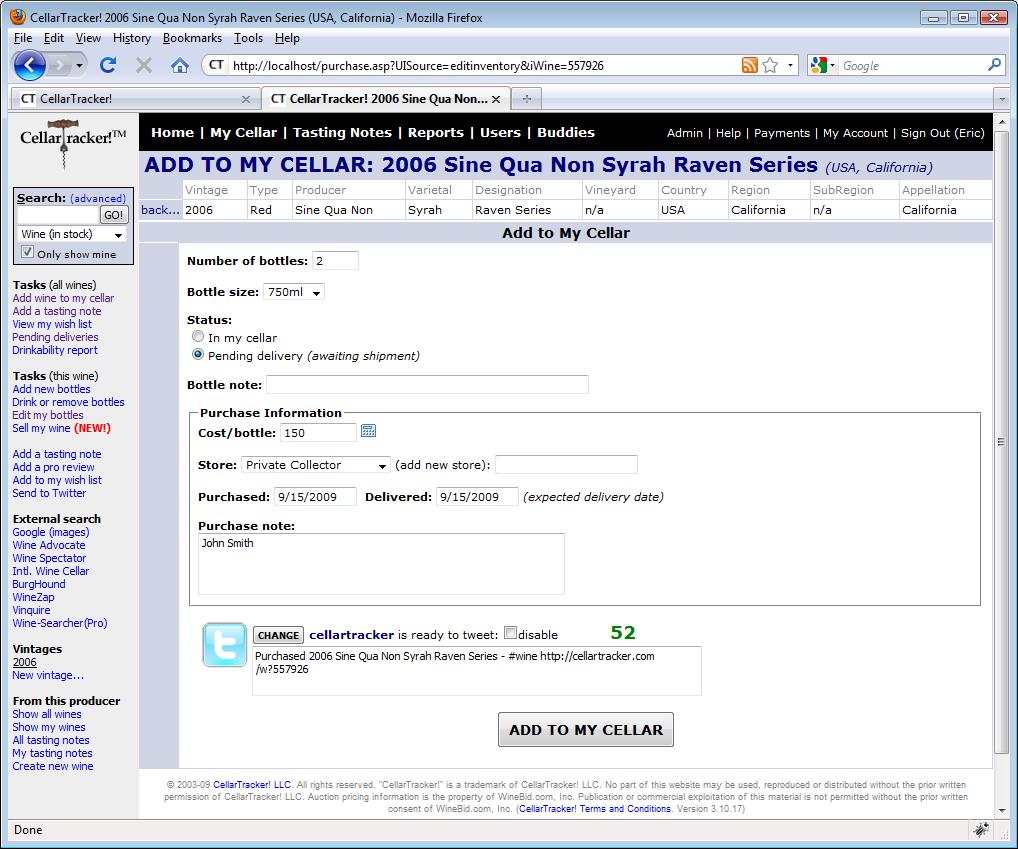 Once you have done that, it will show up on a special list of Pending Deliveries. Using this list, you can easily track your pending deliveries. Once you physically receive the bottles adding them to inventory is as simple as pressing the button to "Accept Delivery" and voila, the wines are added to your cellar!
Restaurant Quality Wine Lists
Now you too can generate a professional printed winelist at home that look as good or better than what you see at most high-end restaurants. This is a real crowd pleaser! http://www.cellartracker.com/printoptions.asp
Download to Microsoft Excel
Are you nervous about putting all of your wine data on a website? Does a simple Excel spreadsheet comfort you? Do you want an offline copy of your data? Microsoft Excel (since Office 2000 for Windows) has had a nice feature called web queries which is basically a way for Excel to suck the tables off of a web page. On the Macintosh you can't create or edit a web query, but you can refresh one in an existing spreadsheet. I have just such a spreadsheet ready for you to download and refresh with your own data.
Barcoding and Scanning
Are you detail oriented, I mean SERIOUSLY anal? Is it important to you to know specifically where you purchased each bottle and to tell all of the babies in your cellar apart from each other? Do you like the BLEEP that a barcode scanner makes? If so, then you are the sort of user who might be masochistic enough to print out unique labels for every bottle in your cellar.
Above is a somewhat low-grade image of a few labels. This is definitely one of those features that takes a heavy initial investment, but man oh man, once you have done it staying caught up is easy and the best way to stay in control of your cellar. Read about it here.
Mobile Device Support
Are you into technology? Is it important to you to do email and browse the web on your cellphone while driving? Better yet, do you want to see what is in your cellar or see what other users are tasting? Or more to the point, have you ever been in a wine shop and tried to remember if you already have some of that wine or another vintage? Well this feature is simple: just browse to the site from your web-enabled device, and the site should automatically show the best possible representation of your data.
You can read all about our mobile plans here.
Please also see the 3rd party apps the integrate tightly with CellarTracker: VinoPal (formerly CellarVU) for the iPad and Cor.kz for iPhone and iPad.
Publish Tasting Notes to Bulletin Boards
Have you ever visited the AWESOME WineBerserkers bulletin board? Checked out the vibrant community over at WineLibrary TV? If not then you are seriously missing out on some awesome communities. If you do browse there and like to post tasting notes (that is your duty to your fellow wine geeks mind you), then this site offers a nice, automated way to let you publish one or more well-formatted tasting notes.
The link above won't show you anything until you write some tasting notes on CellarTracker!, but once you do the site keeps track of which ones you have already posted. Also, you can always search for your tasting notes on specific wines and easily re-publish them or get the UBB or HTML code to paste into a reply on an existing thread. (NOTE: you must separately register for the various bulletin board, and publishing only works on a computer where you have already logged into that site at least once.) This one is really pretty cool. Don't be afraid, posting tasting notes is the best way to learn and share about the pleasure you derive from a great or an everyday wine. Go for it! And there are many more supported boards out there including Robin Garr's Wine Lover's Discussion Group, the UK Wine-Pages, the Wine Spectator Forum and many more.
© 2003-17 CellarTracker! LLC.